Food common to Europe served at Pensacola & Destin Polish deli stores
Taris Savell
tsavell@pnj.com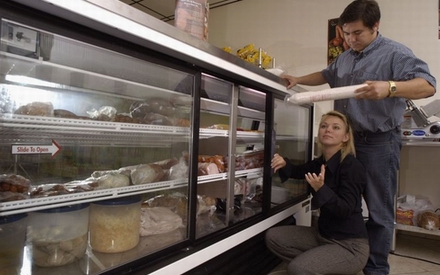 Karolina's Euro Deli, on 101 Hood Drive between Pensacola Boulevard and Old Pensacola Highway, is a new Polish Food and Deli  filled with items not usually available in Pensacola.
Owners Lucas Fenik and Sonia Oczkowska have stocked their deli with Polish, East European, Hungarian and German products.


Fenik, 27, is originally from Poland.
This is a family business," he said. "Sonia and I will get married in Poland this month, and my sister works in the business, too."
Fenik moved to the United States in 2000 and discovered that there are many local residents who are hungry for food of this origin. A number of folks here are of Polish or East European descent or moved here from similar ethnic neighborhoods in other areas of the country.
Karolina's carries a large selection of kielbasa and other sausages, along with hams and cheeses delivered weekly from a Polish deli in Chicago. Other items include Hungarian meats, Polish bread, a large selection of frozen pierogi, dumplings, pickles, sauerkraut, and herring from a barrel or available in jars.

We also have natural fruit and vegetable juices, prepared salads, soups, herbs and Polish and German candy and chocolates. There's something for Russians, Ukranians, Czechoslovakians and almost every country," Fenik said.
The 1,500-square-foot Karolina's is a $100,000 investment for Fenik.
Fenik already has a successful Karolina's in Destin.
Nobody was brave enough to do this kind of store, but there's a lot of potential and everyone likes our product,"
Our goal is to have one of these in every Panhandle city, including Mobile and Gulf Shores," he said.


Hours are Monday through Saturday from 11 a.m. to 7 p.m.