I have to admit, I was thrown a bit when my husband who was recently sent overseas for an extended work assignment informed me that natural stone was his chosen material for both the bathroom floor and the shower.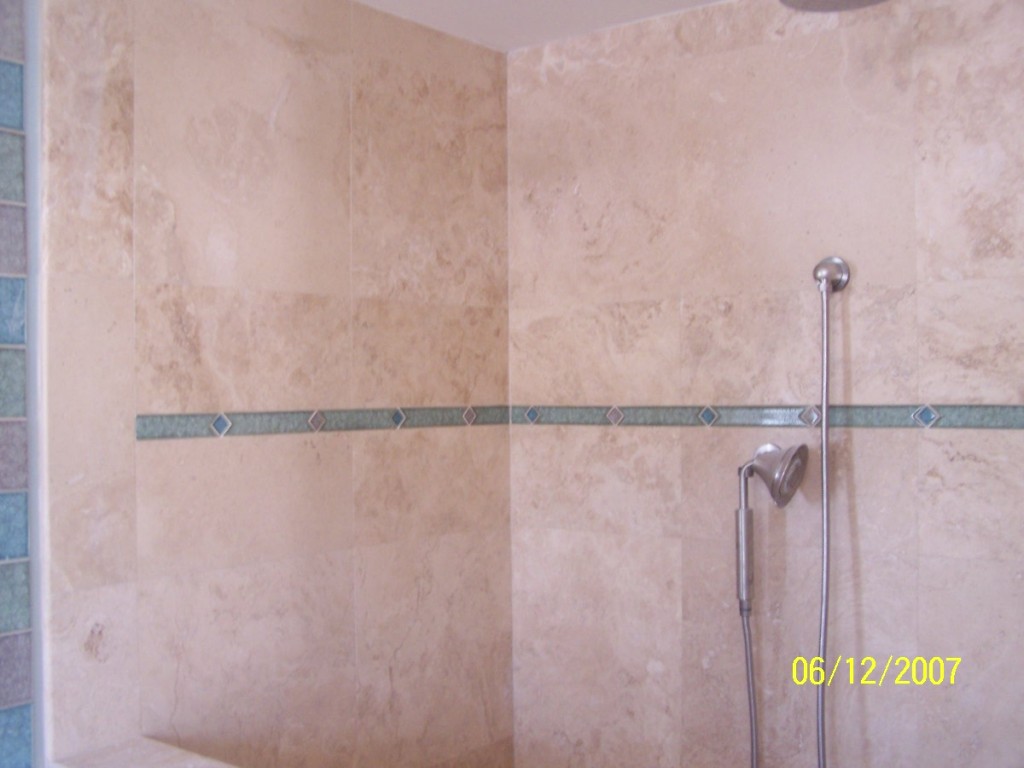 Now it wasn't so much the idea of the natural stone as such but the fact that my husband was insisting on travertine tile: what on earth was that?
I turned to a professional husband and wife team, the owners and contractors of Delphin Design ( www.delphindesign.com ), to assist me with this particular project. This couple, were introduced to me by a close friend of mine who had contracted them to re-tile her kitchen.
My friend was so thrilled with the result and the way they had managed the project that, when she found out I needed somebody to tile my bathroom she suggested I contacted them at Delphin Design.
With the help of my husband I came up with the list of questions I could use when I met with Arthur and Agata.

Q: What is travertine tile?
A: Travertine tile is a durable natural stone that has been historical used in buildings like the Roman Coliseum. Buildings such as this prove the long lasting durability of this beautiful floor tile.
 Q: But what is travertine?
A: It is a natural stone that is closely related to both limestone and marble. It is actually formed by underground water sources. This water is really rich in minerals – these build up into the stone that is used in travertine tile. The end result is a very dense but smooth stone that is noted for its durability.
Q: What travertine colors are available?
A: Most common travertine is naturally and beautiful shade of cream, but depending on place of origin( Turkey, Italy, Iran ) it can also be beige, brown, yellow, red, gray or pink. Each tile has unique color variations because of the way it was formed.
Look of the tile can be also changed by the way it was processed. A honed finish is sanded to appear matte, while a polished travertine tile is polished until it shines. There are other options available such as the size: square 4×4 to 24×24, rectangle 8×16 to 16×24, patterns: versailles pattern or as we call it French pattern and edge profiles: chiseled, cross cut or pillow edge.
Q: What about stone care?
A: We will seal your tiles to protect them from damage. Because the tiles are so durable, a good sealant is really all you need. You can damp mop the floor as you usually would.
Optionally we can use stone enhancer which will bring out deep colors of the stone.
By the end of the meeting, I knew that travertine was the only choice. The tile itself would last forever; I mean the coliseum is still around. It gave me a lot of confidence to believe the stone tile would last longer than my thirty year mortgage.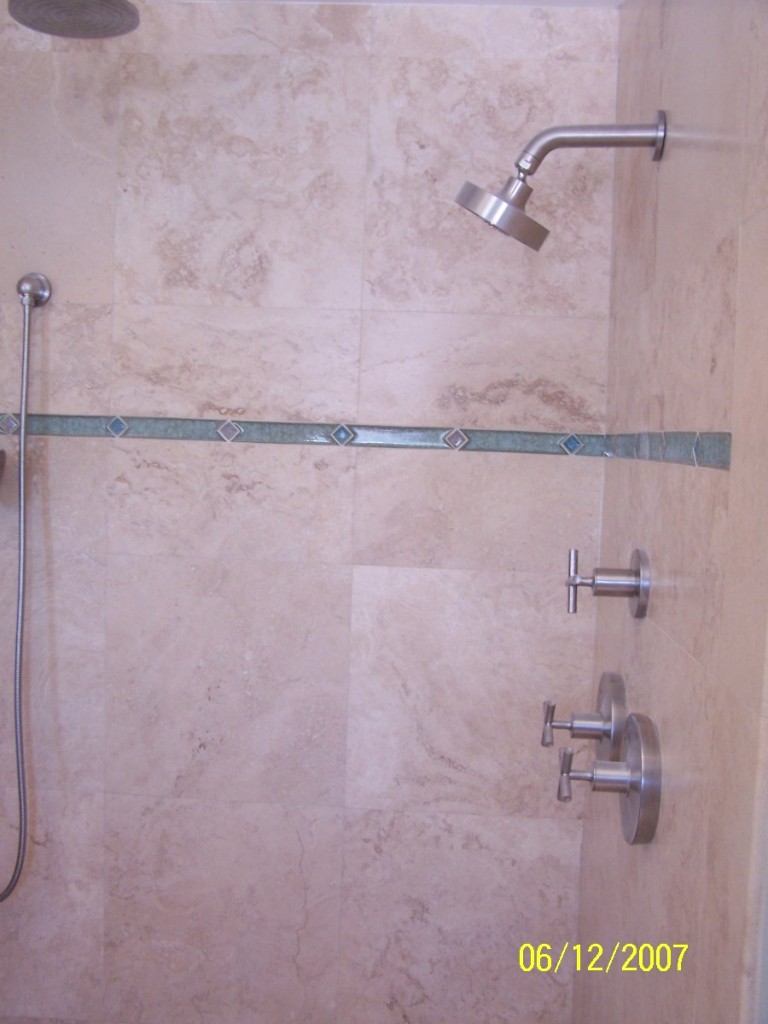 I ended up have Delphin Design do my travertine tile installation and what a wonderful choice – Arthur and Agata were an absolute find: a true jewel. They transformed my ordinary bathroom into a convivial and tranquil space that is a true joy to spend time in. The whole remodeling experience went smoothly, from start to finish – no hiccups anywhere along the line. I was absolutely thrilled – it was almost as if Agata could read my mind. She identified key elements to
revitalize my bathroom such as simple designs that featured beautiful glass accents – something I knew would reflect my personality perfectly. Agata offered to help with shopping for materials and we visited a number of retail outlets that sold tiles.
Finally we located Destin Home Deport where, to my absolute surprise and delight, travertine was in stock. Not only that, but our expectations were fulfilled in the range of color and quality available – and, when I realized the killer price of less than $3 per square foot was well within my budget: well, I was sold and so were the tiles! We tagged one crate and thereon discussed the job schedule. The travertine tiles were ours and the work was on. As I mentioned earlier, the whole job went well and everything was totally straightforward. I have to admit, though, that prior to the start of the project there were two potential problems that I simply could not get my head round. The first was my two precious Weimaraners that usually had a free run of the whole house during the time I was at work. Now, during the bathroom alterations I envisaged both dogs to being confined to the guest bedroom when I wasn't around.
The other problem was my concern at leaving my house in the hands of strangers:should I take a full week off work? In the end I discussed my concerns with Arthur and Agata who were immediately able to put my mind at rest on both counts. When Arthur and Agata offered to walk my dogs, while I was at work, I found the relief astounding.
I found that I trusted Arthur and Agata so much that, at the end of the project, when they asked me what color grout I would like I was amazed by my reply: without hesitation I told them "whatever you think is good in there. I trust you guys". What better recommendation for Destin Tile Company can I give than that? They have proved themselves to be experienced professionals in every way. Their work is clean, top quality and very creative, showing enormous attention to detail. Everything was just perfect. An unexpected bonus was the new friends I made while planning our new bathroom – even my Weims seem to miss them as well! Best of all, my beloved husband will be coming home in two weeks and I am so excited! I just can't wait for him to come home and see our new stone sanctuary – to experience the tranquility from this beautifully revamped bathroom.
If you are considering a new bathroom or shower, or have in mind remodeling a tile surface, I can honestly recommend a family business that I guarantee you can trust.
Every project comes with warranty on labor. For more details contact Delphin Design LLC, 850-4620-6506, www.delphindesign.com  – they are in my special book: even if you are not yet ready to renovate, my advice to you would be to take note of their contact details and put Arthur and Agata in your own special book for when you are ready to call them.